Spirit of Ecstasy Challenge
SCARLETT YANG
Scarlett Yang, photo by Mark Cocksedge.
Few young designers have approached the question of sustainability in the fashion industry as compellingly as Scarlett Yang, the London-based designer who experiments with biomaterials and virtual technologies to create mesmerising sculptural garments. 'The wasteful reality of the fashion and textile industries is really present, it's all over the news, all over the internet,' explains Yang, who began researching alternative textiles whilst studying womenswear at Central Saint Martins. 'As a student and a future professional in the fashion industry it was something that I could not ignore.'
To address these challenges, Yang has turned to areas outside of fashion. The designer sees huge potential in the world of science for innovation in the fashion industry, visiting biology labs and factories that work with cutting-edge processes and materials to develop her own creative solutions in her cross-disciplinary practice.
In 2020, Yang synthesised these findings in her degree show. Titled 'Decomposition of Materiality', this virtual catwalk presented avatars wearing digital renderings of a dress made from algae and silk-cocoons designed to dissolve in water within 24 hours. This embrace of transience reflects the designer's wider aim to redefine 'how we perceive textiles, digitally or face-to-face, as a manufactured product, as a consumer product…and how our consumption of them plays a role in our society.' As well as garnering international press attention, the project won the prestigious LVMH Maison/0 Green Trial prize.
(Left to right): Scarlett Yang, [garment], courtesy the artist. Scarlett Yang, Decomposition of Materiality, courtesy the artist.
Technology also plays a key role for Yang, a true digital native whose early love of 'games, the internet, forums, and anime' led her to bring the virtual into her work. 'There's so much potential for digital tools, processes and resources to support a way to design sustainably in terms of optimising productions,' she explains. 'Even before a product gets produced physically, you can already digitally simulate or tweak it. If you design digitally you don't have to generate any prototype material waste.'
With the Spirit of Ecstasy Challenge, the designer hopes to take her futuristic practice to the next level: 'When I first read the brief I was super excited, it was a lot of the things I want to do and am passionate about: combining this notion of craftsmanship, hands-on making of actual tactile things with really precise digital fabrication. This is something that the automobile industry is very skilled and specialised in. It's such a great opportunity to incorporate that further into my current practice. The fact that the main theme was textiles as well – that's everything I love.'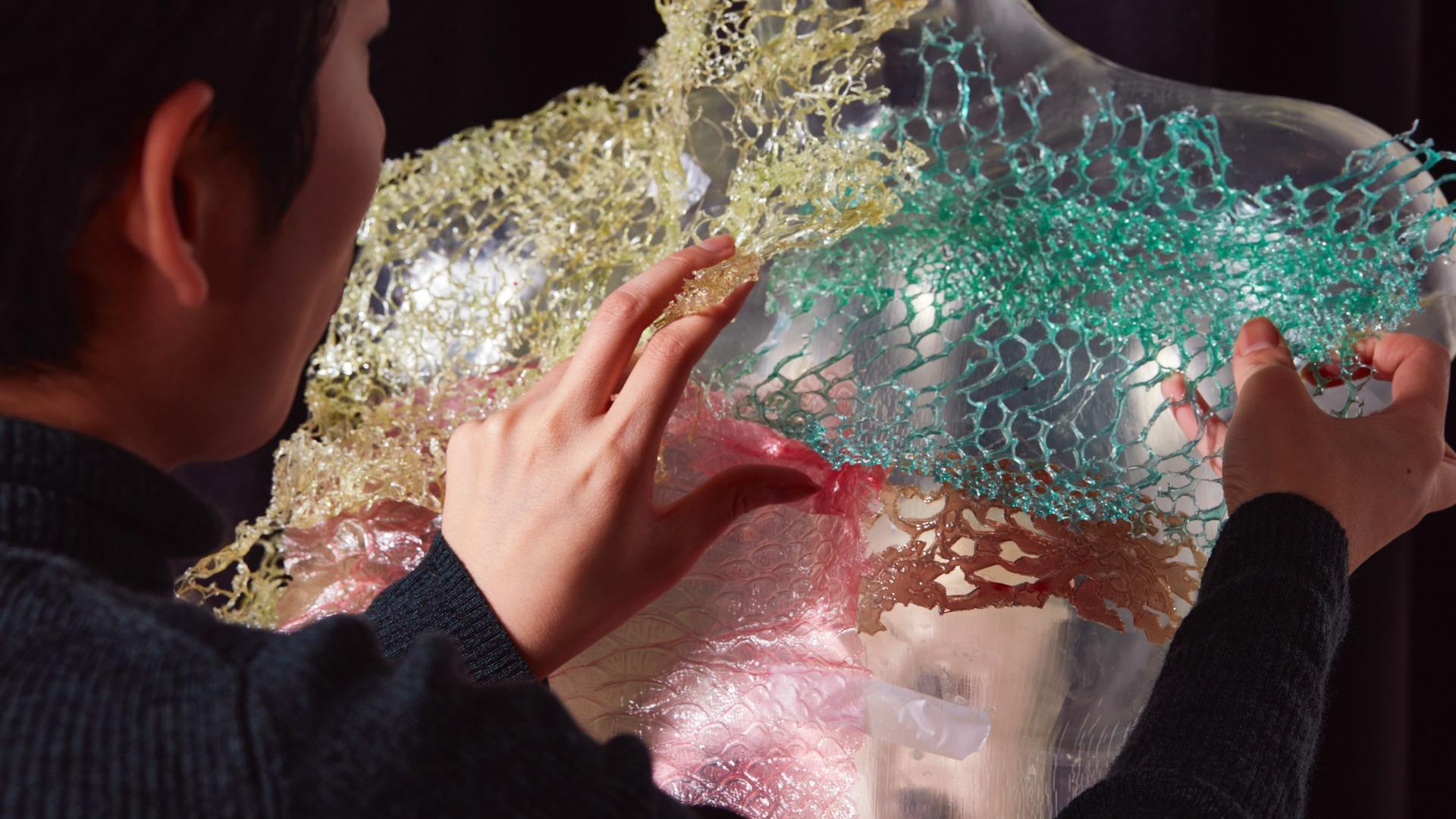 Scarlett Yang, photo by Mark Cocksedge.
SIGN UP NOW
Be the first to hear about our commissioning work with artists and designers, events, conversations with collectors and museum partnership programmes.