Nam June Paik, 1994, Living Eggs Grow, courtesy James Cohan Gallery and Art Basel 2017
A BRIEF HISTORY OF MOVING IMAGE ART: PART I
In 2021, screens are ubiqitous. We carry devices in our pockets that can capture a moving image in an instant. This is a reality reflected and shared by the art world, where video and digital media are now such vital tools for artists that it can be difficult to recall the early Sixties when such formats were regarded with skepticism.
As moving image art enters a new era of heightened relevance, consistently reflecting our shared experiences, one of the main inspirations for the Dream Commission, so we look back to the humble origins of the medium to see how it has evolved from experimental novelty to a futuristic mainstay of contemporary art.
1965
Nam June Paik 'The Father of Video Art'
The famous story goes that the Korean-American artist founded a radical new movement after using his Sony Portapak to shoot footage of Pope Paul VI's procession through New York which he then screened in a cafe. Paik and his fellow avant-garde artists seized upon new opportunities for documentation as affordable recording equipment entered the market. These devices opened up an enticing, unexplored territory for self-expression which could eloquently challenge mainstream culture. Like photography had done half a century before, video would dramatically change the
face of contemporary art.
'Take the best that exists and make it better. When it does not exist, design it'
Nam June Paik, 1994, Pyramid Interactive, courtesy Kukje Gallery
1969
TV as a Creative Medium
The first major exhibition of video art mounted at Howard Wise Gallery in New York was a crucial endorsement of new artistic experiments in technology. Many of the works on show blended different art forms — performance, kinetic, sculpture — with electronics. For instance, Paik and Charlotte Moorman's 'TV Bra for Living Sculpture' featured a live cellist with two screens strapped to her chest while Frank Gillette and Ira Schneider displayed a complex 'television mural' across nine monitors in their 'Wipe Cycle'. These works would be influential in shaping the perception of moving image art as a cutting-edge, multidisciplinary medium.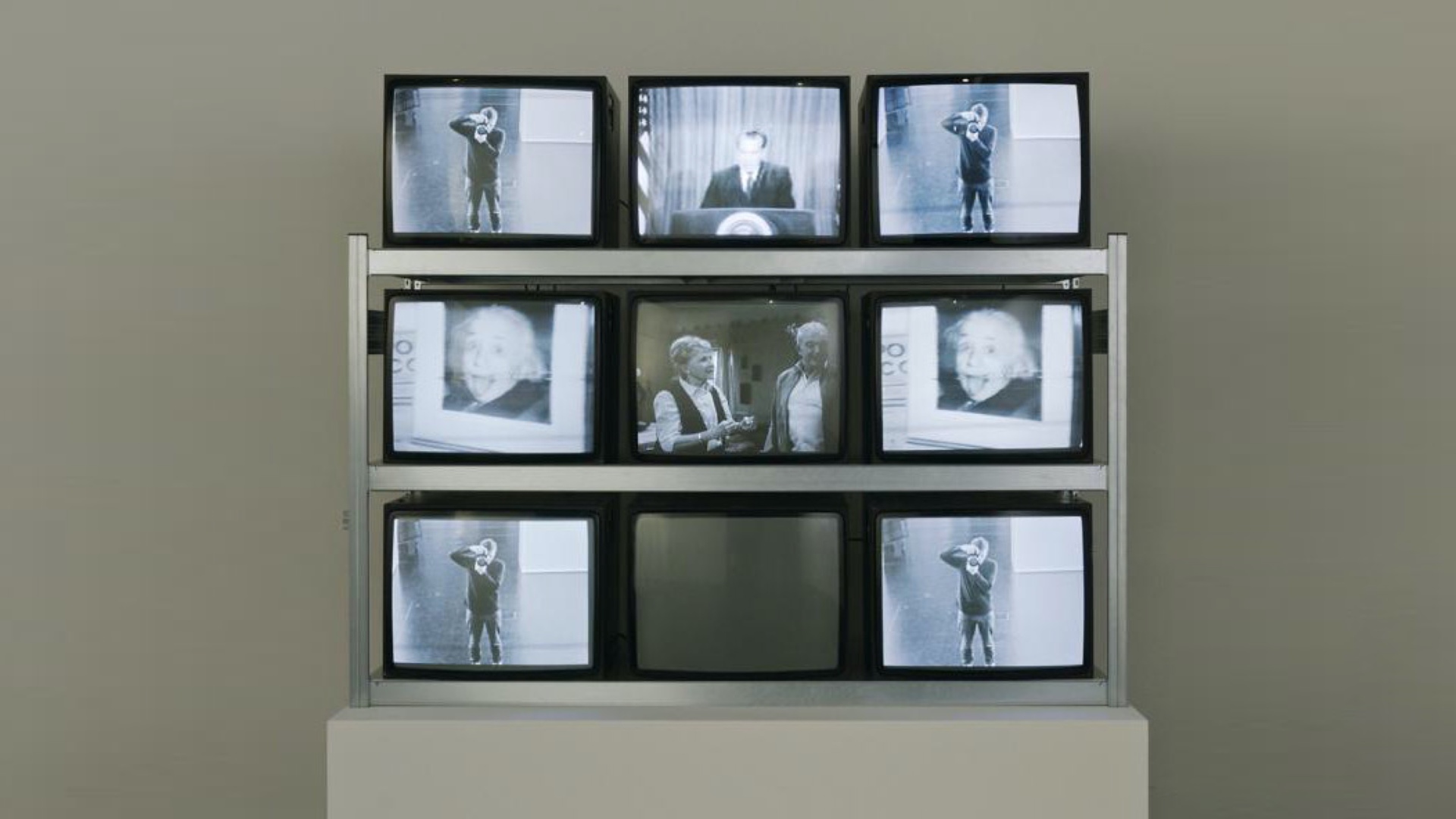 Frank Gillette, Ira Schneider, 1969, Wipe Cycle, Photo ZKM Center for Art and Media and Franz J. Wamhof
The Seventies
Video as Empowerment
By 1969, 95 per cent of American homes contained a television set. Many artists — in particular female, Black, and LGBTQ+ artists — saw video as a powerful tool to question the role of the media which had come to saturate modern life. Dara Birnbaum was one such artist and employed reappropriated clips from popular shows to challenge female stereotypes reinforced by television ('Technology/Transformation: Wonder Woman', 1978-79). Artist Joan Jonas used glitches in analogue video to make bold political statements about spectatorship and women on camera ('Vertical Roll', 1972). Video as activism would also have a major impact on artists of the 1980s, one of the most famous being Isaac Julien, whose seminal film 'Looking for Langston' (1989) offered a sumptuous portrait of Black and gay identity.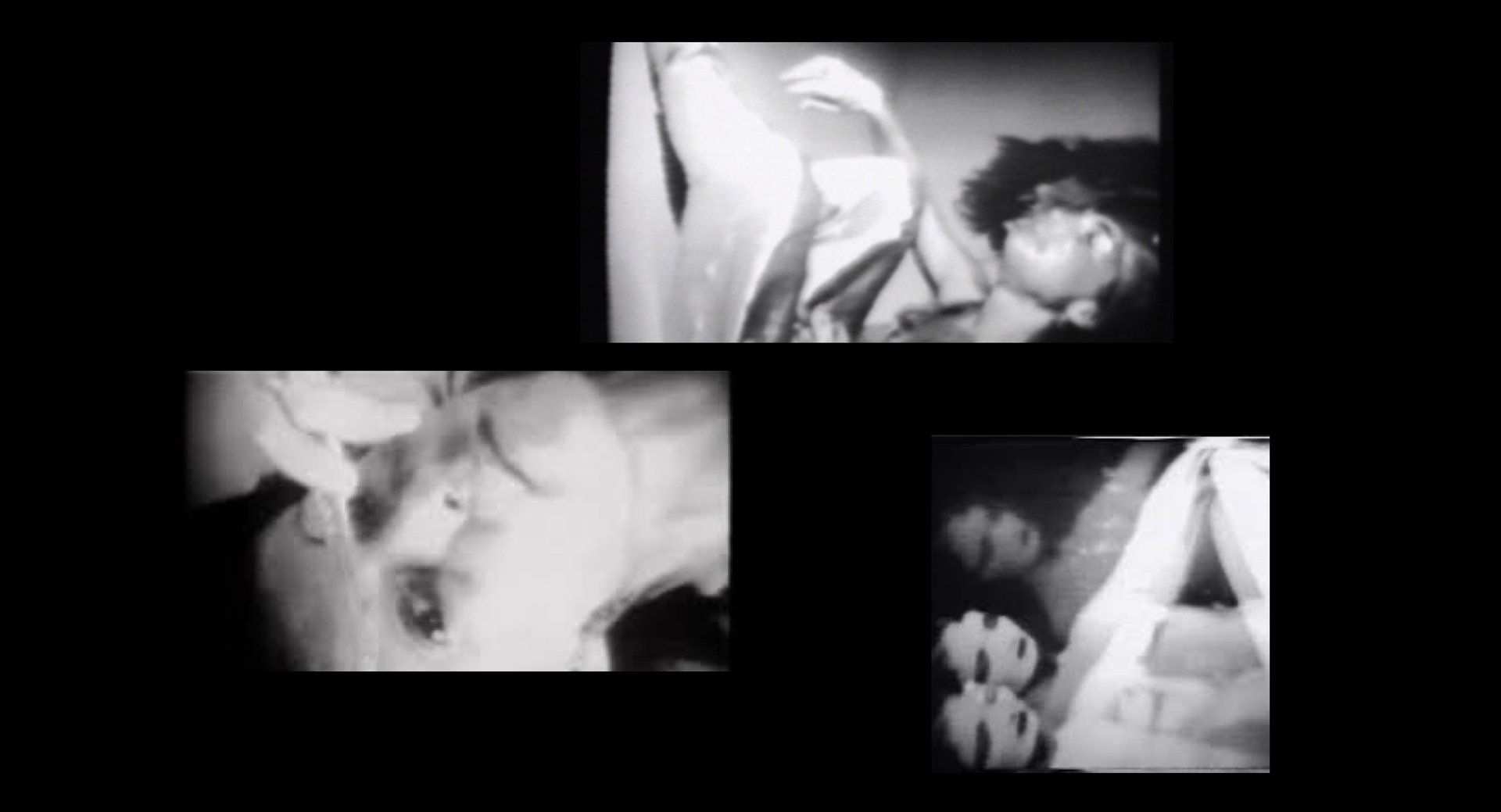 Joan Jonas, 1972, Vertical Roll, © Joan Jonas, Courtesy the artist and Yvon Lambert New York, Paris
The Eighties
Digital Inspires Creativity
The introduction of digital editing software allowed artists to economically pursue new creative paths in editing on computers. In 'Why Do Things Get In A Muddle' (1984), American artist Gary Hill reimagined the children's story Alice in Wonderland through an experimental editing approach: Hill recorded the scenes backwards before reversing it again in the editing process in order to enhance the themes of confusion and disorder in his script. This became a groundbreaking example of how sound and image manipulation could develop important ideas in a moving image artwork.
Gary Hill, 1984, 'Why Do Things Get in a Middle' (Come on Petunia), courtesy Gary Hill
The Nineties
The Rise of Digital
A ground-breaking era ushers in a new generation of artists, thanks to new digital processes, which paved the way for new forms of image construction.
For the first time, artists were able to download footage onto computers and manipulate images with found digital imagery or computer-generated graphics. For his video installation 'Super Mario Clouds' (2002) Cory Arcangel hacked the popular Super Mario Brothers Nintendo game, deleting all visual and sound elements save for the sky and clouds to create a hypnotic digital animation that played with ideas of abstraction and ownership. Arcangel was also one of a new generation of artists pioneering the use of the internet as an artistic medium, an innovation which would become one of most important influences on moving image art from the 1990s onwards.
Cory Arcangel, 2002, Super Mario Clouds, courtesy Cory Arcangel
SIGN UP NOW
Be the first to hear about our commissioning work with artists and designers, events, conversations with collectors and museum partnership programmes.

CONTINUE YOUR JOURNEY
Delve further into stories of Inspiring Greatness.