Ryoji Ikeda, 2019, data-verse, courtesy of la Biennale di Venezia, the artist and Audemars Piguet | © Ryoji Ikeda studio
Part II: A brief history of the moving image art, bringing us to the present day
By the time of the Millennium, moving image art had infiltrated the art world. Artists like Pipilotti Rist and Bill Viola were becoming household names, Rist's lavish large-scale installations and Viola's theatrical 'total environments' had proven how moving image art works could create transfixing experiences that could extend beyond the screen. The digital revolution had also well and truly begun: the next two decades would see the rise of blockbuster immersive shows and the moving image art taking over public spaces, reaching audiences like never before.
BEYOND THE SCREEN: A NEW MILLENNIUM
2000 — MOVING IMAGE ART MAKES A SPLASH IN THE ART MARKET
A commercial milestone arrived in 2006 when Bill Viola's 'Eternal Return' (2000) sold for £330,000, the highest price ever fetched at auction for a video artwork. A string of eye-stretching sales followed, indicating that a secondary market was developing for the medium. New art fairs dedicated to digital and time-based works, such as LOOP in Barcelona and Moving Image in New York, London and Istanbul, popped up accordingly. Collectors also started bringing their collections of moving image works to the public, most notably Julia Stoschek, who opened her 700-plus collection of time-based media art in Frankfurt in 2007

Pipilotti Rist, Ever Is Over All, 1997, View of the installation at the National Museum for Foreign Art, Sofia, Bulgaria. Film by Angel Tzvetanov. © Pipilotti Rist. Courtesy the artist and Hauser & Wirth.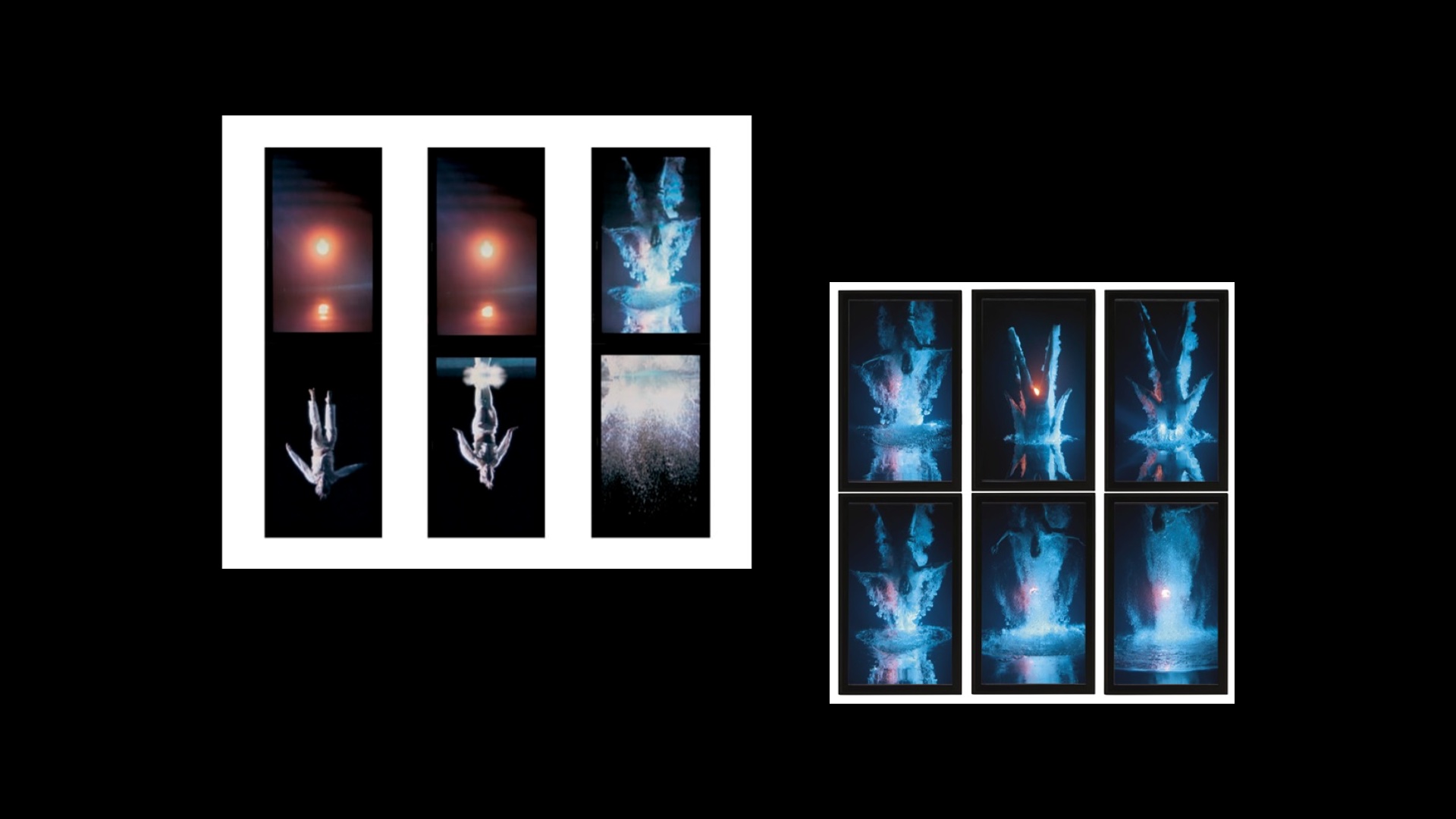 Bill Viola, Eternal Return, 2000, © Bill Viola Studio Photo: Kira Perov
2000
MOVING IMAGE ART GOES MONUMENTAL
The mid-2000s saw moving image art emerge from the gallery and into public spaces. Douglas Gordon and Philippe Parreno presented their film-portrait 'Zidane' in a football stadium during Art Basel in 2006, while in 2007 Doug Aitken took over the MoMA's facade with his seven-screen video projection 'sleepwalkers'. These vast spectacles were far removed from the grainy footage and bulky monitors of the 1960s.
Doug Aitken, sleepwalkers, 2007, outdoor installation, Museum of Modern Art, New York, Image: Peter Comitini
Exhibition view, Zidane – A 21st Century Portrait, 2008, Courtesy Magazin III Museum for Contemporary Art, Photo: Martin Runeborg.
2010
AWARD-WINNING MOVING IMAGE ART
Christian Marclay's 'The Clock' (2010) wins the Golden Lion at the Venice Biennale. Now considered as one of the most important artworks of the decade, Marclay's installation consisted of a 24-hour video-montage of more than 10,000 film and television clips from the last century. What was astounding was how Marclay spliced together specific moments which showed the passing of time — a clock tower in Orson Welles's The Stranger, Big Ben in V for Vendetta — to unfold in real time. By playing out this footage across the day, Marclay suggested that each minute could be filled with cinematic wonder.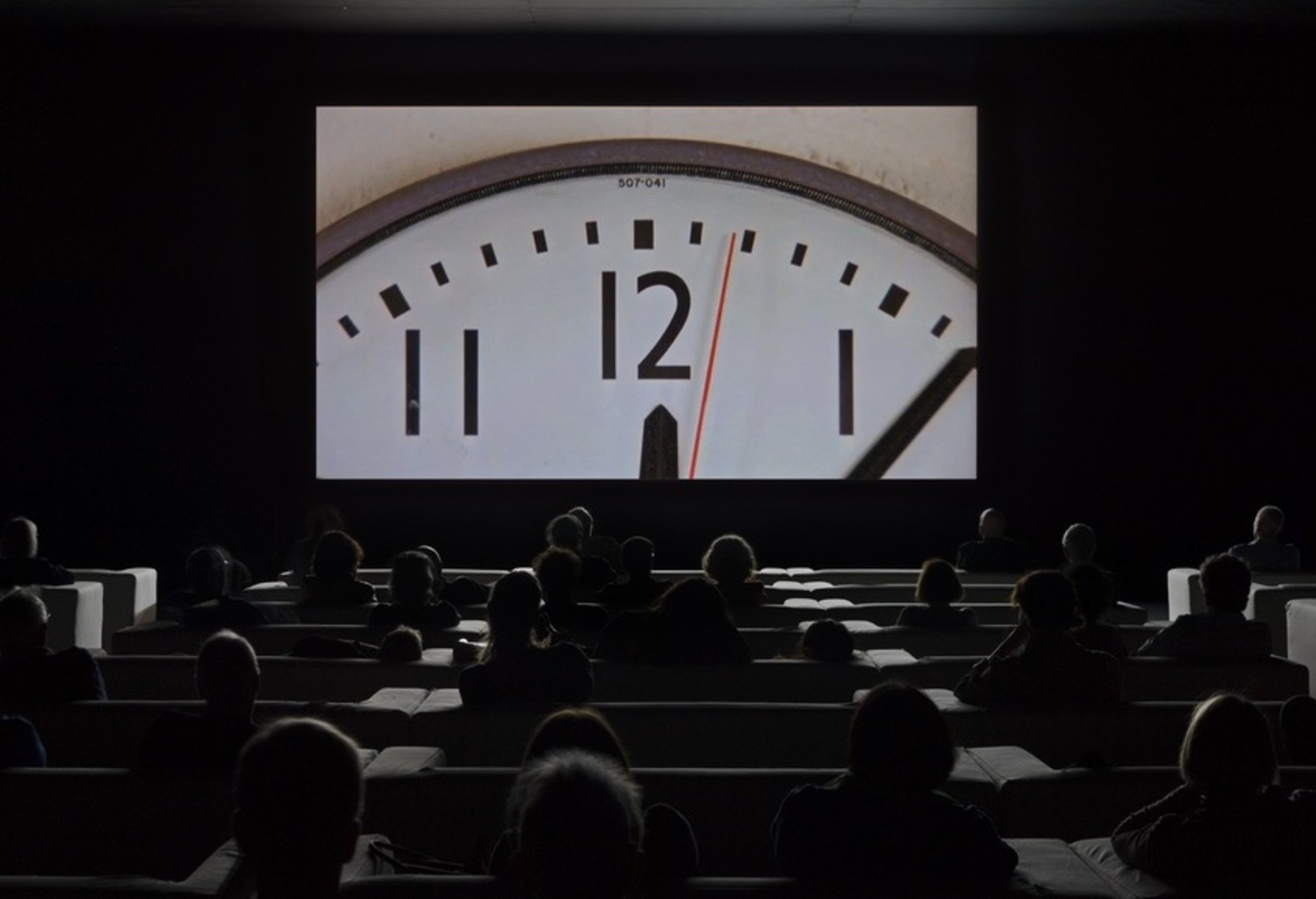 Christian Marclay, The Clock, 2010, Single-channel video installation, Duration: 24 hours, © the artist. Courtesy White Cube, London and Paula Cooper Gallery, New York
2011
ARTIFICIAL INTELLIGENCE AND DATA TAKEOVER
The contemporary era has seen moving image art evolve into a highly sophisticated medium which uses data and artificial intelligence to generate complex visualisations. The Turkish-American artist Refik Anadol, one of today's most famous AI artists, is known for using machine learning to produce interactive digital canvases. Japanese artist Ryoji Ikeda and art practice United Visual Artists both combine scientific data and epic audio-visuals to offer futuristic meditations on nature. This convergence of data, art and technology can be said to be a defining feature of the visual culture of this period, one that has been pioneered through the moving image.
Refik Anadol is known for using machine learning to produce interactive digital canvases
Great Animal Orchestra, 2019, Installation View 2, Milan, Image Credit: Matthew Clark
THE PRESENT DAY
2020 — 2021 MOVING IMAGE AR COMMISSIONS SUPPORT THE NEXT GENERATION OF ARTISTS
When Nam June Paik commented in 1989 that "Technology has become the body's new membrane of existence", little did he know that a pandemic would turn his words into reality.
Our new digital world has ushered in a golden age for moving image art, as reflected by the number of new commissions in this field. In May 2021,  American artist Sondra Perry was named the winner of the Dream Commision, an inaugural commission of Muse, the Rolls-Royce Art Programme which supports artists working within the medium of moving image art. Her plans to install a surreal LED "dream space" in Fondation Beyeler in 2022 will be the latest futuristic milestone in the shifting, groundbreaking story of moving image art.
Sondra Perry, 2020, Lineage for a Phantom Zone, Courtesy Muse, the Rolls-Royce Art Programme
Sondra Perry's Dream Commission will be the latest futuristic milestone in the shifting, groundbreaking story of moving image art
SIGN UP NOW
Be the first to hear about our commissioning work with artists and designers, events, conversations with collectors and museum partnership programmes.

CONTINUE YOUR JOURNEY
Delve further into stories of Inspiring Greatness.