Luggage & storage
Kinetic Luggage Collection
Price on Request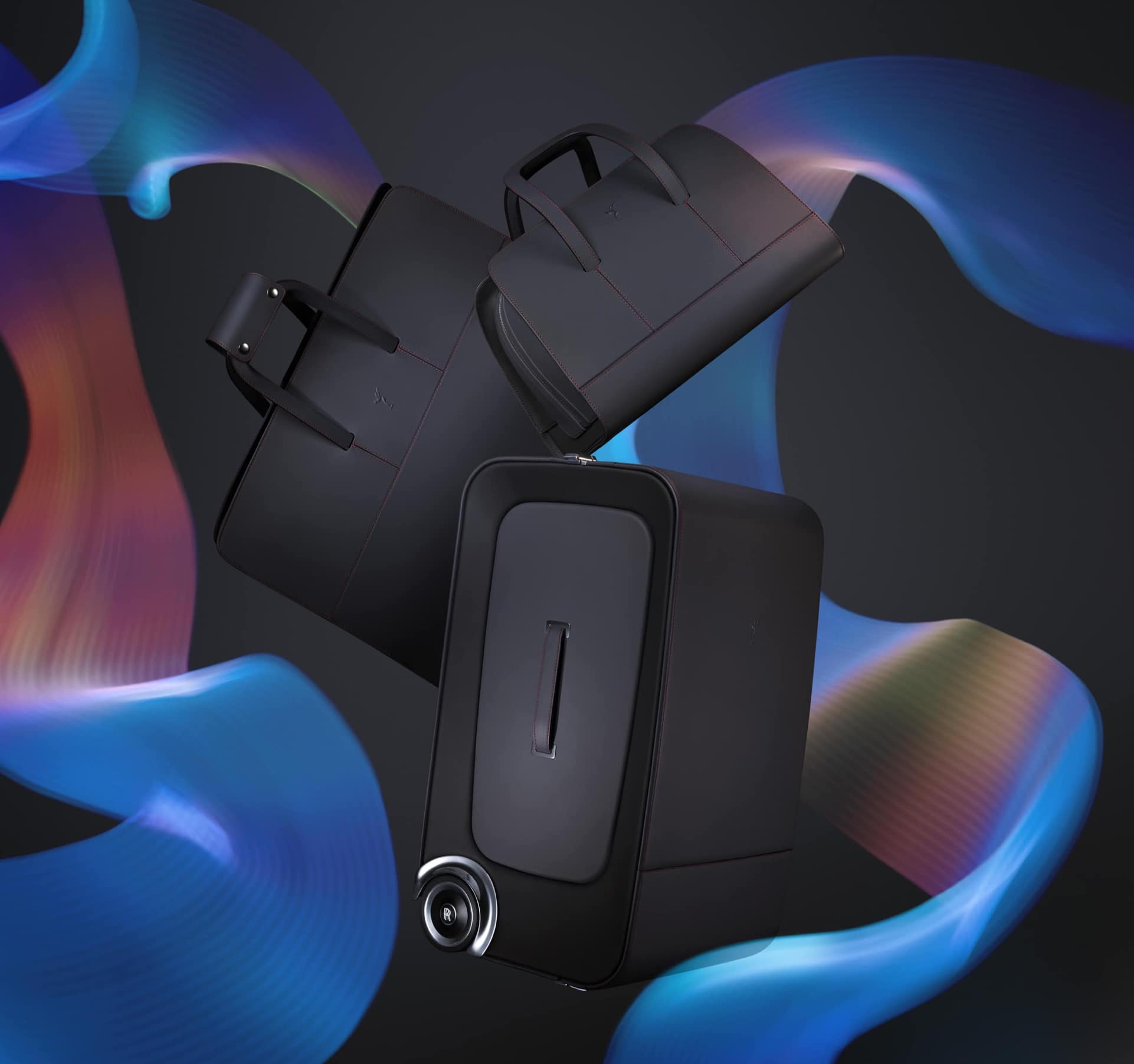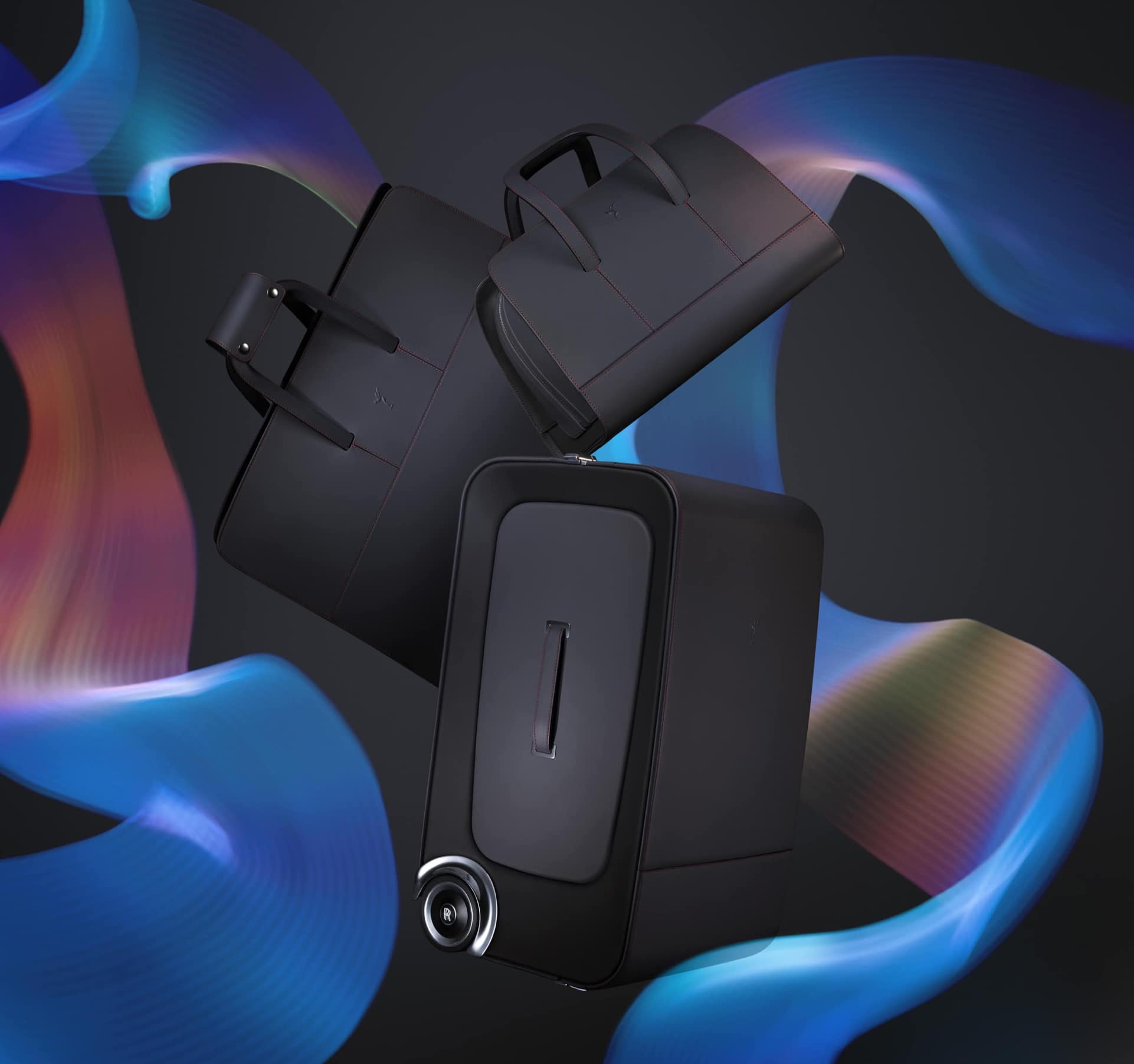 An expression of powerful purpose. Alluring in its architecture, the collection suits those who hold an undeniable energy. Determined, yet dynamic.

Travelling should be an exciting endeavour, right down to your choice of luggage. From observing the techniques of the Head Butler at a prestigious London hotel, the Goodwood Design Team have created a luggage concept for those who seek to travel in style. Innovative engineering meets exquisite craftsmanship and an elegant aesthetic.

The six-piece collection, including two Grand Tourers, three Long  weekenders and a Garment Carrier, has been designed to fit perfectly into the luggage compartment of your Rolls-Royce Wraith. The striking two-tone styling of the leather and stitching can be personalised, giving you opportunity to choose from a selection of available colours, or your favourite colours if you prefer. The Spirit of Ecstasy adorns each piece as a token reminder of the Rolls-Royce tradition: taking the best that exists and making it better.

A carbon fibre and high-grade aluminium frame makes the Grand Tourer effortless to manoeuvre, while also providing your belongings with superior protection. The uniquely designed wheel hold true to the smooth handling of your motor car and feature a self-levelling central monogram.

Practical and lightweight, the Long Weekender is an ideal accessory for any journey. The piece features a unique magnetic zip that keeps your belongings safe and secure, as well as distinctively crafted handles to ensure maximum comfort when carried. Lastly, the Garment Carrier keeps your formal attire in pristine condition throughout your journey. 
Dimensions 
The Garment Carrier: L:575 x W:620 x D:190mm
The Long Weekender: L:420 x W:255 x H:315mm
The Grand Tourer: L:640 x W:380 x D:340mm
TECH GUIDE
Designed using the design principles of Wraith

Wraith luggage can be purchased as individual pieces or in the following sets:

– 6 piece set - x2 Grand Tourers, x3 Long Weekenders and x1 Garment Carrier

– 5 piece set - x2 Grand Tourers and x3 Long Weekenders

Available for all models

Leather colour, stitching colour and plaque text can be personalised to enhance this innovative, convenient and unique luggage concept 
| | | | | | | | | |
| --- | --- | --- | --- | --- | --- | --- | --- | --- |
| EPC Location | Part Number | Description | Model | From | Until | Notes | Estimated Fitting Time | Made To Order |
| 03_4097 | 82 26 2 420 647 | Luggage set personalised, 6 pieces | All models | Sep '13 | Current | Bespoke | | true |
| 03_4097 | 82 26 2 420 648 | Luggage set personalised, 5 pieces | All models | Sep '13 | Current | Bespoke | Estimated 12 weeks lead time | true |
| 03_4097 | 82 26 2 420 649 | Luggage piece – long weekender | All models | Sep '13 | Current | Bespoke | Estimated 12 weeks lead time | true |
| 03_4097 | 82 26 2 420 650 | Luggage piece – grand tourer | All models | Sep '13 | Current | Bespoke | Estimated 12 weeks lead time | true |
| 03_4097 | 82 26 2 420 651 | Luggage piece – garment carrier | All models | Sep '13 | Current | Bespoke | Estimated 12 weeks lead time | true |