Interior
Enhanced Clocks Retrofit
Price on Request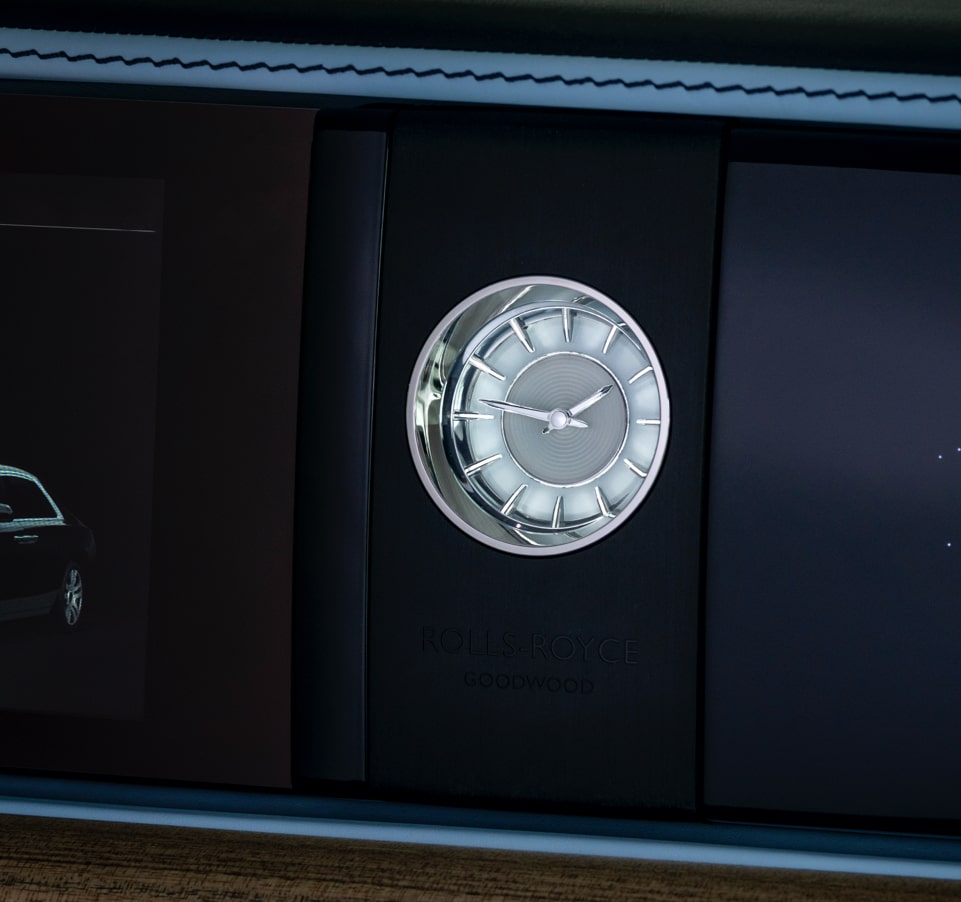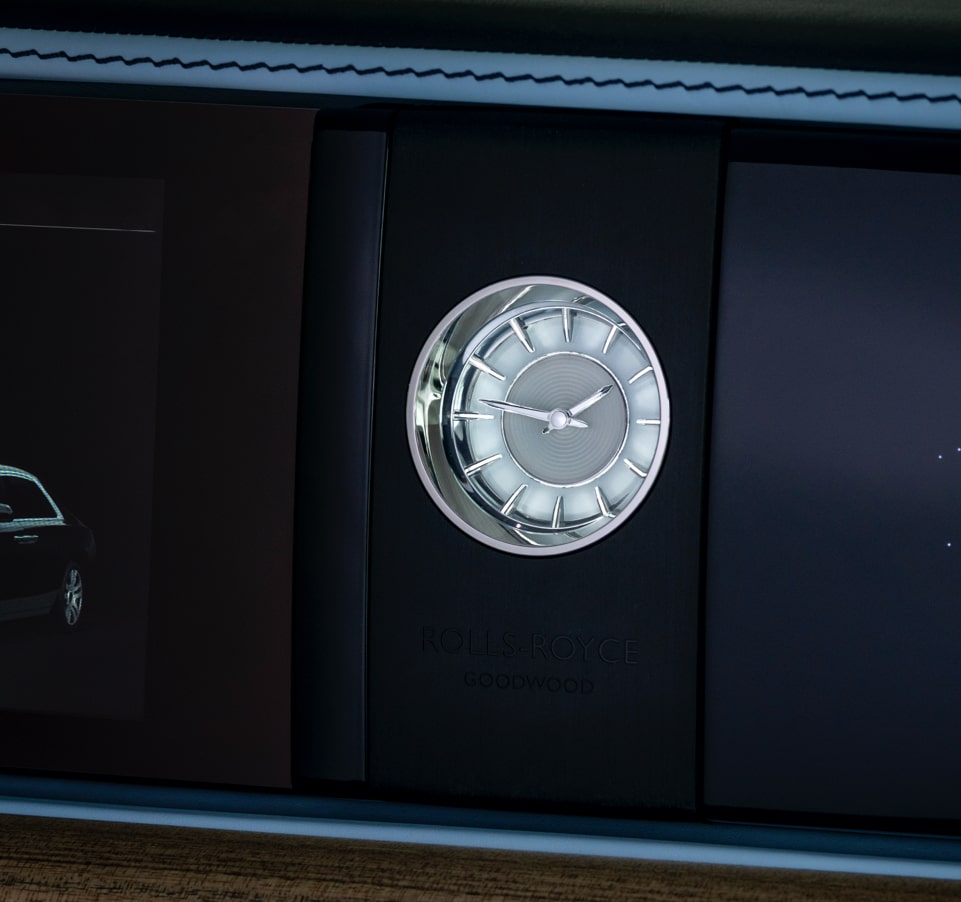 Three exquisite new clocks to enhance the look and feel of New Ghost. Each has its own distinct design, perfectly complimenting the interior ambiance of this motor car.
'Dynamic' Enhanced Clock
With a focus on purity of materials and simple graphical execution, the Dynamic Enhanced Clock is a true modernist statement. 
A chamfered surface is complemented with precision milled hour markers, with each quarter-hour illuminated for stunning emphasis.
'Indulge' Enhanced Clock
A jewel-like focal point, the Indulge Enhanced clock evokes the world of high-end luxury timepieces. 
Three dimensional polished aluminium chaplets and illuminated inserts denote a design with a beating heart of contemporary romance. 
'Technical' Enhanced Clock
The precision engineering heritage of our founder Sir Henry Royce is the inspiration behind the design of this clock. 
The central dial appears to float, allowing a subtle, diffused light to glow from behind, while the hands are meticulously machined from stainless steel.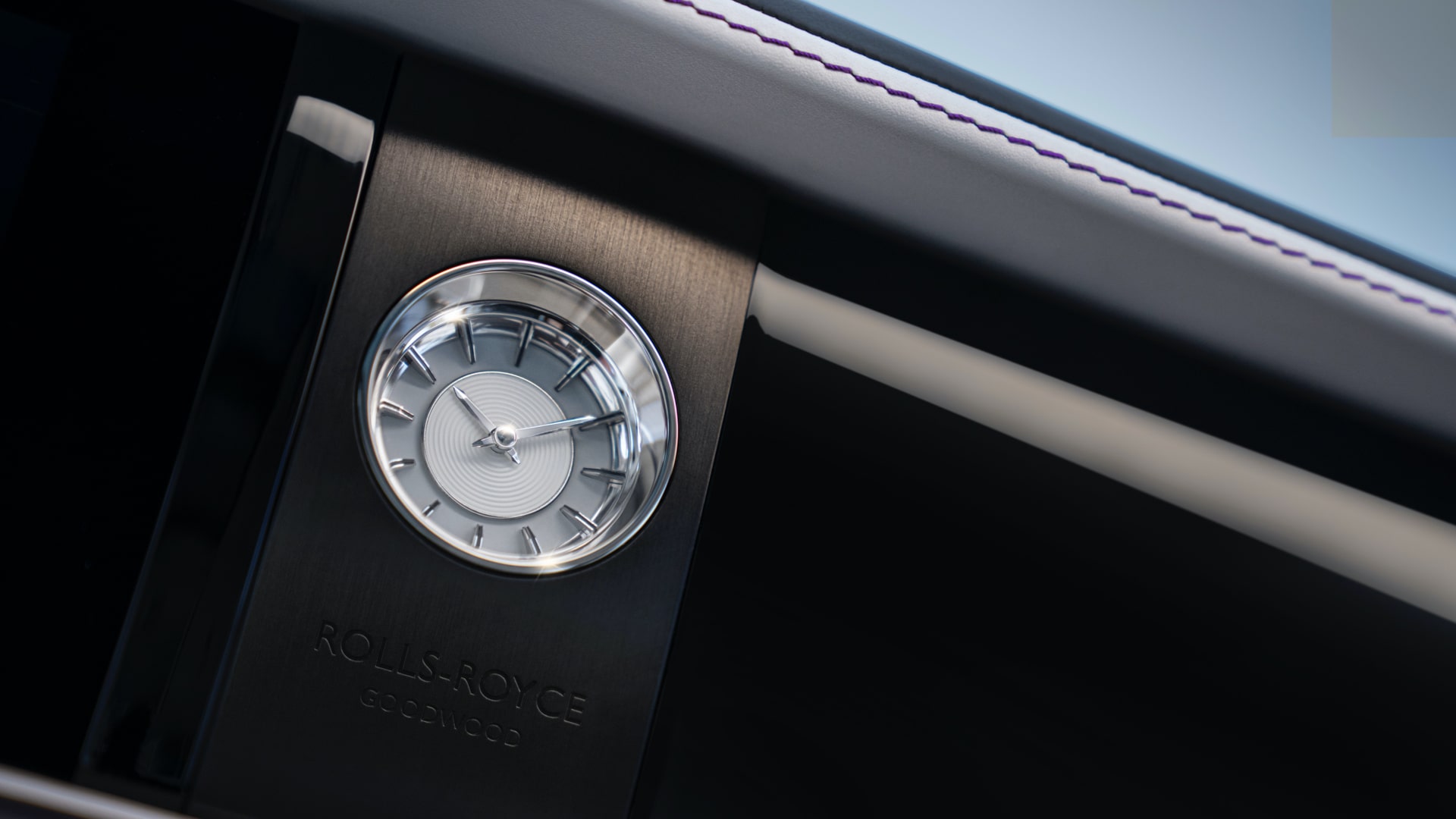 TECH GUIDE
Fits Ghost models (RR21, RR22) from SOP to current
Units fit both LHD and RHD models
Retrofit kit can allow the update of ex-Demo or Provenance vehicles, enhancing the experience for customers
| | | | | | | | | |
| --- | --- | --- | --- | --- | --- | --- | --- | --- |
| EPC Location | Part Number | Description | Model | From | Until | Notes | Estimated Fitting Time | Made To Order |
| 03_5742 | 5 A56 068 | Retrofit kit analog clock Dynamic LHD | Ghost & Ghost Extended | Aug '21 | Current | | Standard "AIR" instructions | false |
| 03_5742 | 5 A56 070 | Retrofit kit analog clock Dynamic RHD | Ghost & Ghost Extended | Aug '21 | Current | | Standard "AIR" instructions | false |
| 03_5742 | 5 A56 072 | Retrofit kit analog clock Indulgence White LHD | Ghost & Ghost Extended | Aug '21 | Current | | Standard "AIR" instructions | false |
| 03_5742 | 5 A56 073 | Retrofit kit analog clock Indulgence White RHD | Ghost & Ghost Extended | Aug '21 | Current | | Standard "AIR" instructions | false |
| 03_5742 | 5 A56 087 | Retrofit kit analog clock Technical LHD | Ghost & Ghost Extended | Aug '21 | Current | | Standard "AIR" instructions | false |
| 03_5742 | 5 A56 088 | Retrofit kit analog clock Technical RHD | Ghost & Ghost Extended | Aug '21 | Current | | Standard "AIR" instructions | false |