Exterior
Cellarette
Price on Request
Inspired by Rolls Royce's long-established history of beautifully-designed, precision-engineered hosting equipment, the Cellarette is a humidor, drink chest and glassware storage unit. Its name pays homage to the intricately crafted wooden cabinets for storing drinks that were found in the homes of the wealthy as early as the 15th century.
This beautiful combination of machined metal parts and handcrafted detailing presents cigars, a cutter and lighter, spirits of your choosing and crystal glasses. A snack-bowl configuration is available for non-smokers.
At the push of a button, the humidor tray rotates, opening to present cigars. Glasses with Rolls Royce branding are offered in a similar outward rotation, and a table-top, and side hammocks with ash-tray spurs, or porcelain snack-bowls for non smokers, and a bottle-holder emerge.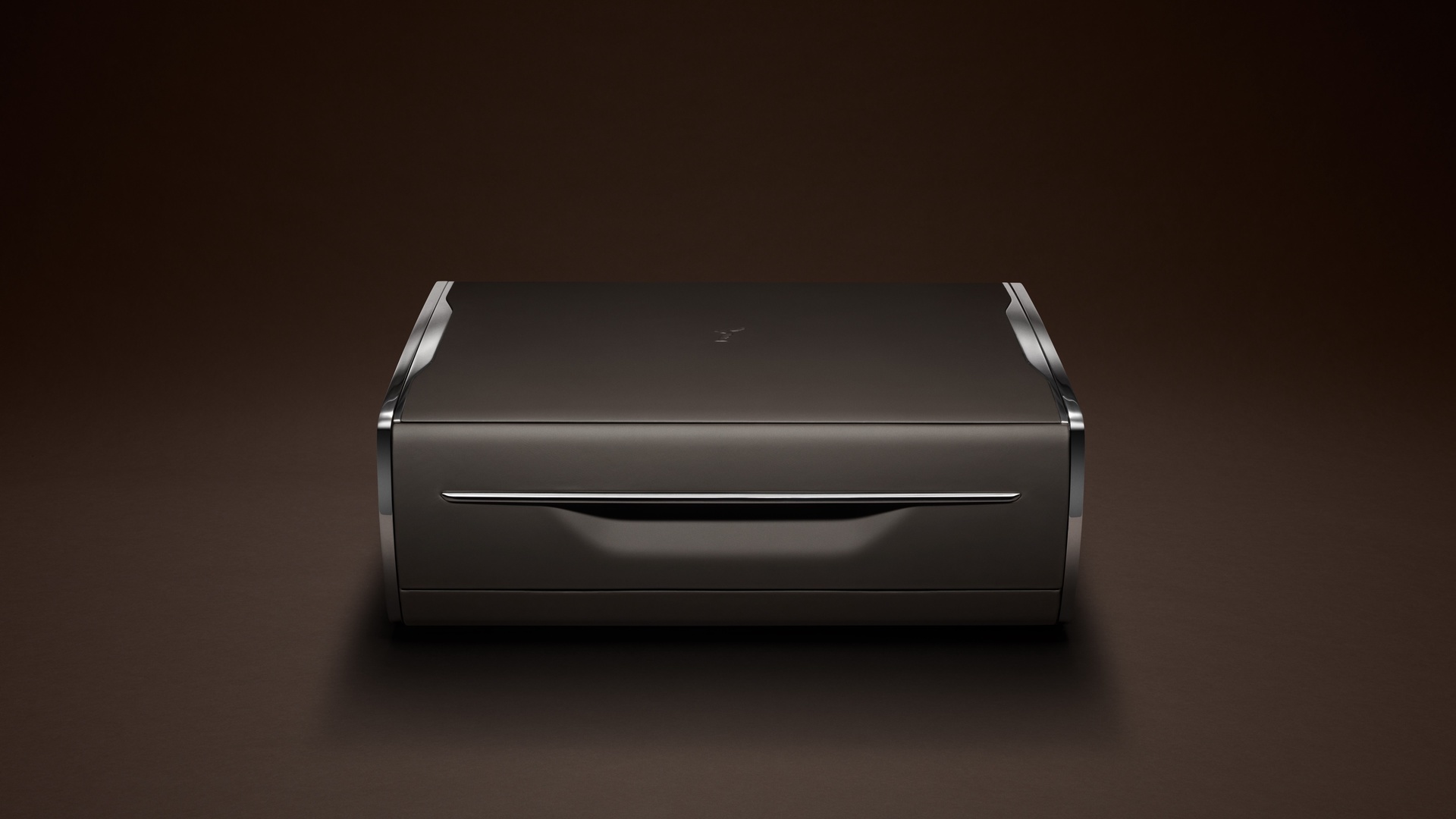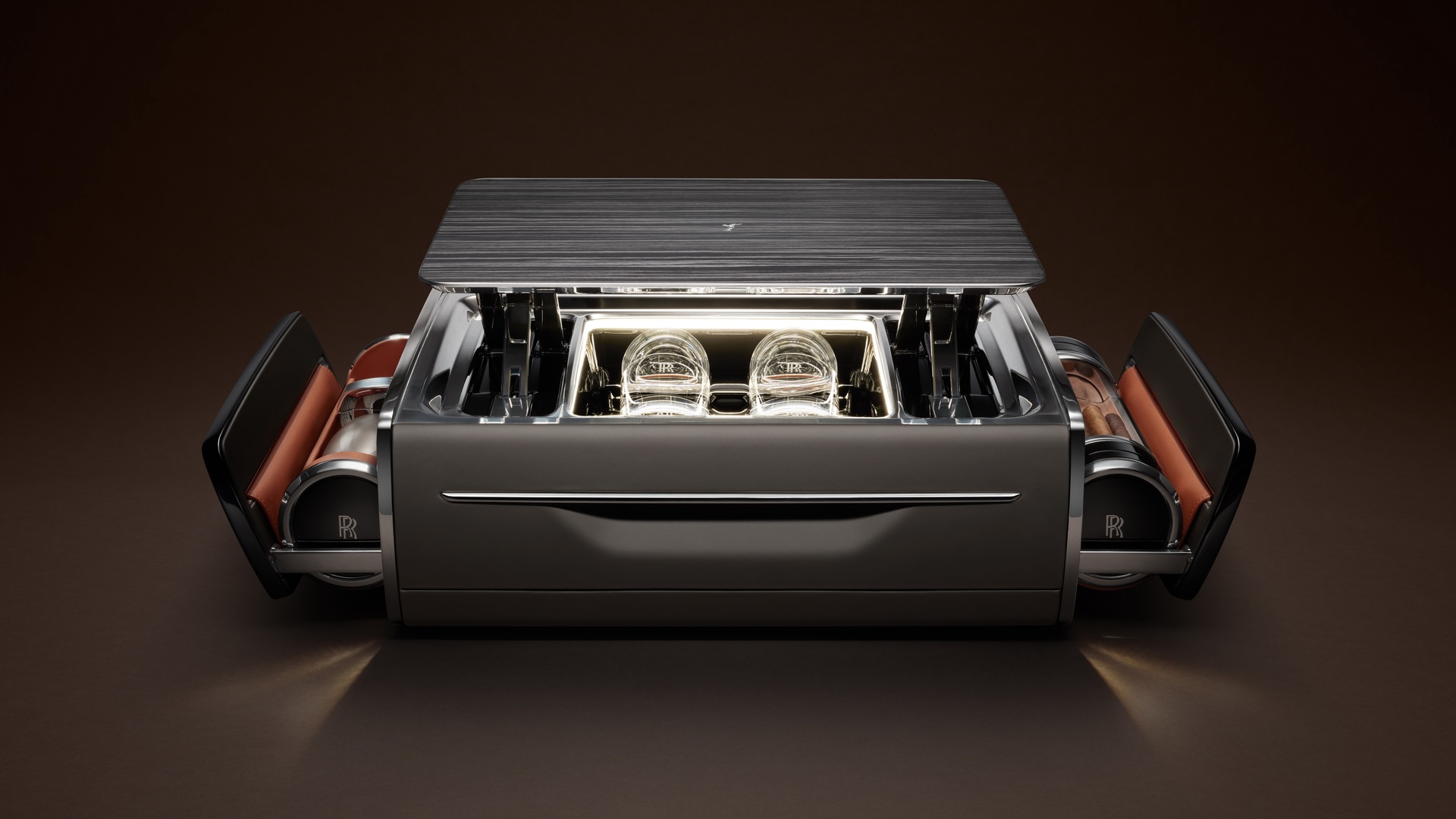 TECH GUIDE
Features & Benefits
• Battery operated mechanical function for a theatrical opening
• Removable serving tray lid
• LED lighting illuminates the interior, providing an aura of light, making the Cellarette the perfect centrepiece
• Handmade one-off glassware, finished with an etched Rolls-Royce logo on the base
• Finished in Rolls-Royce leather, Piano Black veneer and polished aluminium
The Rolls-Royce Cellarette Smoking Set contains:
• Removable Serving tray (Mounted on the deployable lid)
• Whisky bottle display cradle (Accommodates most standard whisky bottles)
• Cigar capsule with humidor and hygrometer
• Capsule accommodates 4 x 57 gauge cigars with storage for spills or additional cigars
• Stowage space for 2 x Boveda humidifying pouches (size 8)
• Four 'Old Fashioned' tumbler glasses with etched Rolls-Royce logo
• ST Dupont lighter and cigar cutter (including stowage)
• Ashtray with rotating cigar rests and removable tray
• Leather carrying sleeve
• Mains voltage charging cable 
• User manual and care guideline
The Rolls-Royce Cellarette Non-Smoking Set contains:
• Removable Serving tray (Mounted on the deployable lid)
• Whisky bottle display cradle (Accommodates most standard whisky bottles)
• Snack Bowl Set with 3 x porcelain bowls
• Set of 4 napkins
• Four 'Old Fashioned' tumbler glasses with etched Rolls-Royce logo
• Leather carrying sleeve
• Mains voltage charging cable 
• User manual and care guideline
| | | | | | | | | |
| --- | --- | --- | --- | --- | --- | --- | --- | --- |
| EPC Location | Part Number | Description | Model | From | Until | Notes | Estimated Fitting Time | Made To Order |
| N/A | 72 60 5 A4D E99 | Cellarette, Hero Specification – Smoking Set | All models | Aug '21 | Current | | N/A | false |
| N/A | 72 60 5 A4D EC5 | Cellarette, Hero Specification – Non-Smoking Set | All models | Aug '21 | Current | | N/A | false |
| N/A | 72 60 5 A4D EC6 | Cellarette, Personalised – Smoking Set | All models | Aug '21 | Current | | N/A | false |
| N/A | 72 60 5 A4D ED6 | Cellarette, Personalised – Non-Smoking Set | All models | Aug '21 | Current | | N/A | false |
| N/A | 72 60 5 A 4D EA0 | Cellarette Chest, Hero Specification | All models | Aug '21 | Current | These spare parts are all included as standard with the appropriate Cellarette Configuration. However, they may be ordered as replacement parts, or as interchangeable elements in the case of parts such as the Humidor and Snack Bowl Set | N/A | false |
| N/A | 72 60 5 A4D ED5 | Cellarette Chest, Personalised | All models | Aug '21 | Current | These spare parts are all included as standard with the appropriate Cellarette Configuration. However, they may be ordered as replacement parts, or as interchangeable elements in the case of parts such as the Humidor and Snack Bowl Set | N/A | false |
| N/A | 72 60 5 A 4D EB0 | Humidor | All models | Aug '21 | Current | These spare parts are all included as standard with the appropriate Cellarette Configuration. However, they may be ordered as replacement parts, or as interchangeable elements in the case of parts such as the Humidor and Snack Bowl Set | N/A | false |
| N/A | 72 60 5 A 4D EB1 | Lighter | All models | Aug '21 | Current | These spare parts are all included as standard with the appropriate Cellarette Configuration. However, they may be ordered as replacement parts, or as interchangeable elements in the case of parts such as the Humidor and Snack Bowl Set | N/A | false |
| N/A | 72 60 5 A 4D EB2 | Cutter | All models | Aug '21 | Current | These spare parts are all included as standard with the appropriate Cellarette Configuration. However, they may be ordered as replacement parts, or as interchangeable elements in the case of parts such as the Humidor and Snack Bowl Set | N/A | false |
| N/A | 72 60 5 A 4D EB3 | Set Tumbler Glass X4 | All models | Aug '21 | Current | These spare parts are all included as standard with the appropriate Cellarette Configuration. However, they may be ordered as replacement parts, or as interchangeable elements in the case of parts such as the Humidor and Snack Bowl Set | N/A | false |
| N/A | 72 60 5 A 4D EB4 | Whisky Tube | All models | Aug '21 | Current | These spare parts are all included as standard with the appropriate Cellarette Configuration. However, they may be ordered as replacement parts, or as interchangeable elements in the case of parts such as the Humidor and Snack Bowl Set | N/A | false |
| N/A | 72 60 5 A 4D EB5 | Cellarette Carrying Sleeve | All models | Aug '21 | Current | These spare parts are all included as standard with the appropriate Cellarette Configuration. However, they may be ordered as replacement parts, or as interchangeable elements in the case of parts such as the Humidor and Snack Bowl Set | N/A | false |
| N/A | 72 60 9478973 | Cellarette Chest Charger 12V | All models | Aug '21 | Current | These spare parts are all included as standard with the appropriate Cellarette Configuration. However, they may be ordered as replacement parts, or as interchangeable elements in the case of parts such as the Humidor and Snack Bowl Set | N/A | false |
| N/A | 01 15 5 A 4D EB8 | Cellarette Information Document | All models | Aug '21 | Current | These spare parts are all included as standard with the appropriate Cellarette Configuration. However, they may be ordered as replacement parts, or as interchangeable elements in the case of parts such as the Humidor and Snack Bowl Set | N/A | false |
| N/A | 51 49 9447182 | Snack Bowl | All models | Aug '21 | Current | These spare parts are all included as standard with the appropriate Cellarette Configuration. However, they may be ordered as replacement parts, or as interchangeable elements in the case of parts such as the Humidor and Snack Bowl Set | N/A | false |
| N/A | 51 49 9478970 | Set Napkins X4 | All models | Aug '21 | Current | These spare parts are all included as standard with the appropriate Cellarette Configuration. However, they may be ordered as replacement parts, or as interchangeable elements in the case of parts such as the Humidor and Snack Bowl Set | N/A | false |