Interior
Carbon Treadplates
Price on Request
Only available for Black Badge Cullinan.
3-5 week lead time. Logo designs can take significantly longer.
Available exclusively for Black Badge Cullinan, this stunning new feature creates an extra special entrance for you to step in to your vehicle. Positioned on the inner treadstrip the Carbon Fibre treadplate is beautifully illumnated by the interior lighting.
Add an extra layer of personalisation by customising the treadplate text. Choose from three different fonts, with space for up to 16 characters, and the option for personalised logos.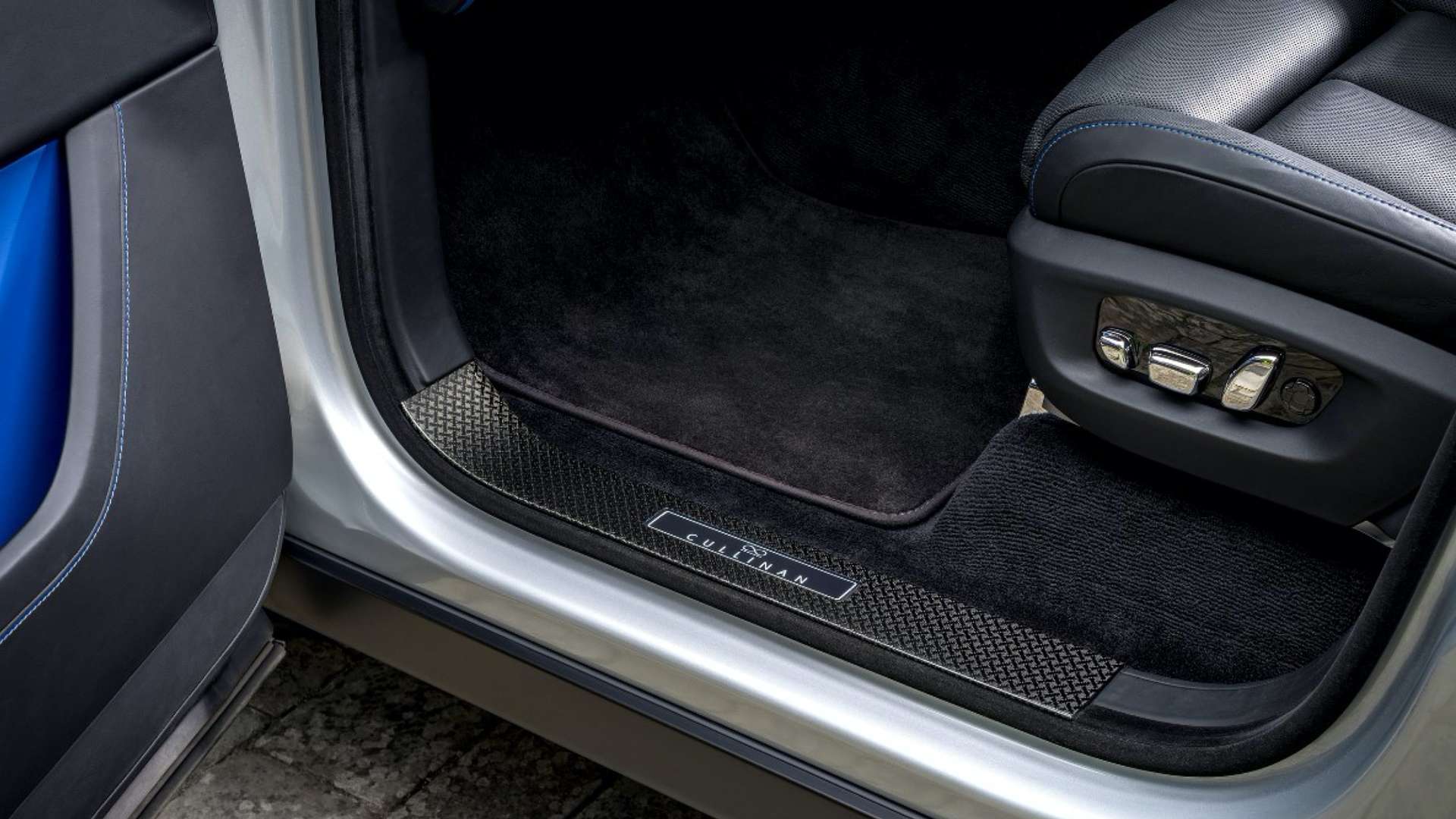 TECH GUIDE
• Availabe exclusivly for Black badge Culllinan
• Offers additional levels of personalisation for provenance vehicles
• Ability to customise text with 3 fonts and upto 16 character spaces (See order form for more details)
• Personalised logo can be added (Design to be submitted)
• Positioned on the inner treadstrip and illuminates with the interior lighting
Orders must be submitted through the EPC in conjunction with a completed order form. All orders will be cancelled after 7 working days if a completed order form has not been received. Order forms can be found on: RetailerHub > Ownership Services > Parts and Logistics > Product Order Forms All order forms can be found on Retailer Hub.
| | | | | | | | | |
| --- | --- | --- | --- | --- | --- | --- | --- | --- |
| EPC Location | Part Number | Description | Model | From | Until | Notes | Estimated Fitting Time | Made To Order |
| 51_A065 | 51 47 5 A09 DA1 | Retrofit Kit, Engraved Text Treadplate LH Front | Cullinan | Apr '21 | Current | Orders must be submitted through the EPC in conjunction with a completed order form. All orders will be cancelled after 7 working days if a completed order form has not been received. Order forms can be found on: RetailerHub > Ownership Services > Parts and Logistics > Product Order Forms All order forms can be found on Retailer Hub. | 2 Hours or 24 FRU | true |
| 51_A065 | 51 47 5 A09 DA2 | Retrofit Kit, Engraved Text Treadplate, RH Front | Cullinan | Apr '21 | Current | Orders must be submitted through the EPC in conjunction with a completed order form. All orders will be cancelled after 7 working days if a completed order form has not been received. Order forms can be found on: RetailerHub > Ownership Services > Parts and Logistics > Product Order Forms All order forms can be found on Retailer Hub. | 2 Hours or 24 FRU | true |
| 51_A065 | 51 47 5 A09 DA3 | Retrofit Kit, Engraved Text Treadplate LH Rear | Cullinan | Apr '21 | Current | Orders must be submitted through the EPC in conjunction with a completed order form. All orders will be cancelled after 7 working days if a completed order form has not been received. Order forms can be found on: RetailerHub > Ownership Services > Parts and Logistics > Product Order Forms All order forms can be found on Retailer Hub. | 2 Hours or 24 FRU | true |
| 51_A065 | 51 47 5 A09 DA4 | Retrofit Kit, Engraved Text Treadplate, RH Rear | Cullinan | Apr '21 | Current | Orders must be submitted through the EPC in conjunction with a completed order form. All orders will be cancelled after 7 working days if a completed order form has not been received. Order forms can be found on: RetailerHub > Ownership Services > Parts and Logistics > Product Order Forms All order forms can be found on Retailer Hub. | 2 Hours or 24 FRU | true |
| 51_A065 | 51 47 5 A09 DA5 | Retrofit Kit, Engraved Logo Treadplate LH Front | Cullinan | Apr '21 | Current | Orders must be submitted through the EPC in conjunction with a completed order form. All orders will be cancelled after 7 working days if a completed order form has not been received. Order forms can be found on: RetailerHub > Ownership Services > Parts and Logistics > Product Order Forms All order forms can be found on Retailer Hub. | 2 Hours or 24 FRU | true |
| 51_A065 | 51 47 5 A09 DA6 | Retrofit Kit, Engraved Logo Treadplate, RH Front | Cullinan | Apr '21 | Current | Orders must be submitted through the EPC in conjunction with a completed order form. All orders will be cancelled after 7 working days if a completed order form has not been received. Order forms can be found on: RetailerHub > Ownership Services > Parts and Logistics > Product Order Forms All order forms can be found on Retailer Hub. | 2 Hours or 24 FRU | true |
| 51_A065 | 51 47 5 A09 DA7 | Retrofit Kit, Engraved Logo Treadplate LH Rear | Cullinan | Apr '21 | Current | Orders must be submitted through the EPC in conjunction with a completed order form. All orders will be cancelled after 7 working days if a completed order form has not been received. Order forms can be found on: RetailerHub > Ownership Services > Parts and Logistics > Product Order Forms All order forms can be found on Retailer Hub. | 2 Hours or 24 FRU | true |
| 51_A065 | 51 47 5 A09 DA8 | Retrofit Kit, Engraved Logo Treadplate, RH Rear | Cullinan | Apr '21 | Current | Orders must be submitted through the EPC in conjunction with a completed order form. All orders will be cancelled after 7 working days if a completed order form has not been received. Order forms can be found on: RetailerHub > Ownership Services > Parts and Logistics > Product Order Forms All order forms can be found on Retailer Hub. | 2 Hours or 24 FRU | true |
| 03_5558 | 51 47 5 A45 C79 | Retrofit Kit, Illuminated "Cullinan" Prefix Treadplates | Cullinan | Apr '21 | Current | Orders must be submitted through the EPC in conjunction with a completed order form. All orders will be cancelled after 7 working days if a completed order form has not been received. Order forms can be found on: RetailerHub > Ownership Services > Parts and Logistics > Product Order Forms All order forms can be found on Retailer Hub. | 2 Hours or 24 FRU | true |
| 03_5558 | 51 47 5 A45 C89 | Retrofit Kit, Illuminated Text Treadplates | Cullinan | Apr '21 | Current | Orders must be submitted through the EPC in conjunction with a completed order form. All orders will be cancelled after 7 working days if a completed order form has not been received. Order forms can be found on: RetailerHub > Ownership Services > Parts and Logistics > Product Order Forms All order forms can be found on Retailer Hub. | 2 Hours or 24 FRU | true |
| 03_5558 | 51 47 5 A45 C90 | Retrofit Kit, Illuminated Logo Treadplates | Cullinan | Apr '21 | Current | Orders must be submitted through the EPC in conjunction with a completed order form. All orders will be cancelled after 7 working days if a completed order form has not been received. Order forms can be found on: RetailerHub > Ownership Services > Parts and Logistics > Product Order Forms All order forms can be found on Retailer Hub. | 2 Hours or 24 FRU | true |
| 51_A065 | 51 47 9 872 417 | LH Front, Illuminated Treadplate | Cullinan | Apr '21 | Current | Orders must be submitted through the EPC in conjunction with a completed order form. All orders will be cancelled after 7 working days if a completed order form has not been received. Order forms can be found on: RetailerHub > Ownership Services > Parts and Logistics > Product Order Forms All order forms can be found on Retailer Hub. | 2 Hours or 24 FRU | true |
| 51_A065 | 51 47 9 872 418 | RH Front, Illuminated Treadplate | Cullinan | Apr '21 | Current | Orders must be submitted through the EPC in conjunction with a completed order form. All orders will be cancelled after 7 working days if a completed order form has not been received. Order forms can be found on: RetailerHub > Ownership Services > Parts and Logistics > Product Order Forms All order forms can be found on Retailer Hub. | 2 Hours or 24 FRU | true |
| 51_A065 | 51 47 9 872 419 | LH Rear, Illuminated Treadplate | Cullinan | Apr '21 | Current | Orders must be submitted through the EPC in conjunction with a completed order form. All orders will be cancelled after 7 working days if a completed order form has not been received. Order forms can be found on: RetailerHub > Ownership Services > Parts and Logistics > Product Order Forms All order forms can be found on Retailer Hub. | 2 Hours or 24 FRU | true |
| 51_A065 | 51 47 9 872 420 | RH Rear, Illuminated Treadplate | Cullinan | Apr '21 | Current | Orders must be submitted through the EPC in conjunction with a completed order form. All orders will be cancelled after 7 working days if a completed order form has not been received. Order forms can be found on: RetailerHub > Ownership Services > Parts and Logistics > Product Order Forms All order forms can be found on Retailer Hub. | 2 Hours or 24 FRU | true |
| 51_A065 | 51 47 5 A09 DB1 | LH Front, Illuminated Treadplate | Cullinan | Apr '21 | Current | Orders must be submitted through the EPC in conjunction with a completed order form. All orders will be cancelled after 7 working days if a completed order form has not been received. Order forms can be found on: RetailerHub > Ownership Services > Parts and Logistics > Product Order Forms All order forms can be found on Retailer Hub. | 2 Hours or 24 FRU | true |
| 51_A065 | 51 47 5 A09 DB2 | RH Front, Illuminated Treadplate | Cullinan | Apr '21 | Current | Orders must be submitted through the EPC in conjunction with a completed order form. All orders will be cancelled after 7 working days if a completed order form has not been received. Order forms can be found on: RetailerHub > Ownership Services > Parts and Logistics > Product Order Forms All order forms can be found on Retailer Hub. | 2 Hours or 24 FRU | true |
| 51_A065 | 51 47 5 A09 DB3 | LH Rear, Illuminated Treadplate | Cullinan | Apr '21 | Current | Orders must be submitted through the EPC in conjunction with a completed order form. All orders will be cancelled after 7 working days if a completed order form has not been received. Order forms can be found on: RetailerHub > Ownership Services > Parts and Logistics > Product Order Forms All order forms can be found on Retailer Hub. | 2 Hours or 24 FRU | true |
| 51_A065 | 51 47 5 A09 DB4 | RH Rear, Illuminated Treadplate | Cullinan | Apr '21 | Current | Orders must be submitted through the EPC in conjunction with a completed order form. All orders will be cancelled after 7 working days if a completed order form has not been received. Order forms can be found on: RetailerHub > Ownership Services > Parts and Logistics > Product Order Forms All order forms can be found on Retailer Hub. | 2 Hours or 24 FRU | true |
| 51_A065 | 51 47 5 A09 DB5 | LH Front, Illuminated Treadplate | Cullinan | Apr '21 | Current | Orders must be submitted through the EPC in conjunction with a completed order form. All orders will be cancelled after 7 working days if a completed order form has not been received. Order forms can be found on: RetailerHub > Ownership Services > Parts and Logistics > Product Order Forms All order forms can be found on Retailer Hub. | 2 Hours or 24 FRU | true |
| 51_A065 | 51 47 5 A09 DB6 | RH Front, Illuminated Treadplate | Cullinan | Apr '21 | Current | Orders must be submitted through the EPC in conjunction with a completed order form. All orders will be cancelled after 7 working days if a completed order form has not been received. Order forms can be found on: RetailerHub > Ownership Services > Parts and Logistics > Product Order Forms All order forms can be found on Retailer Hub. | 2 Hours or 24 FRU | true |
| 51_A065 | 51 47 5 A09 DB7 | LH Rear, Illuminated Treadplate | Cullinan | Apr '21 | Current | Orders must be submitted through the EPC in conjunction with a completed order form. All orders will be cancelled after 7 working days if a completed order form has not been received. Order forms can be found on: RetailerHub > Ownership Services > Parts and Logistics > Product Order Forms All order forms can be found on Retailer Hub. | 2 Hours or 24 FRU | true |
| 51_A065 | 51 47 5 A09 DB8 | RH Rear, Illuminated Treadplate | Cullinan | Apr '21 | Current | Orders must be submitted through the EPC in conjunction with a completed order form. All orders will be cancelled after 7 working days if a completed order form has not been received. Order forms can be found on: RetailerHub > Ownership Services > Parts and Logistics > Product Order Forms All order forms can be found on Retailer Hub. | 2 Hours or 24 FRU | true |