Provenance
certified pre-owned motor cars
CERTIFIED PRE-OWNED MOTOR CARS
INTRODUCING PROVENANCE BY ROLLS-ROYCE
Provenance motor cars are previously owned Rolls-Royce models meticulously refurbished to the highest standards. Spanning all models and encompassing often rare styles, each Provenance motor car has a rich history – from its inception at the hands of master technicians, to its first intrepid owner exploring boundless opportunity from within. As a Provenance owner, you will experience a Rolls-Royce that drives as beautifully as it did the day it left the Home of Rolls-Royce in Goodwood.
Continue the legacy and discover your certified Rolls-Royce Provenance motor car.
THE PROVENANCE PROPOSITION
360 DEGREE INSPECTION
Before we award the certified Provenance title, every element of each motor car must be thoroughly trialled and tested against our renowned standards. 
LOVINGLY RESTORED
We demand that our collection be flawless in form and impressive in nature. Each motor car is lovingly restored as close as it can be to the original specification.
WHISPERS EXCLUSIVE ACCESS
As the owner of a Provenance motor car, you will be one of the select few with immediate access to Whispers – our private members club, offering unique experiences, connections and a 24/7 complimentary concierge.
PROVENANCE WARRANTY
Provenance motor cars are protected by two-years' additional warranty. Using only genuine Rolls-Royce parts, our trained technicians within our authorised network ensure all repairs are flawlessly conducted.
ROLLS-ROYCE SERVICING
Exceptional cars demand exceptional service. With each Provenance motor car, we include two-years' servicing alongside the added warranty, ensuring that your motor car is maintained to the highest standards.
ROADSIDE ASSISTANCE
Take full advantage of Rolls-Royce Roadside Assistance included with your Provenance motor car.  We cover the unexpected, offering our owners absolute peace of mind wherever they drive.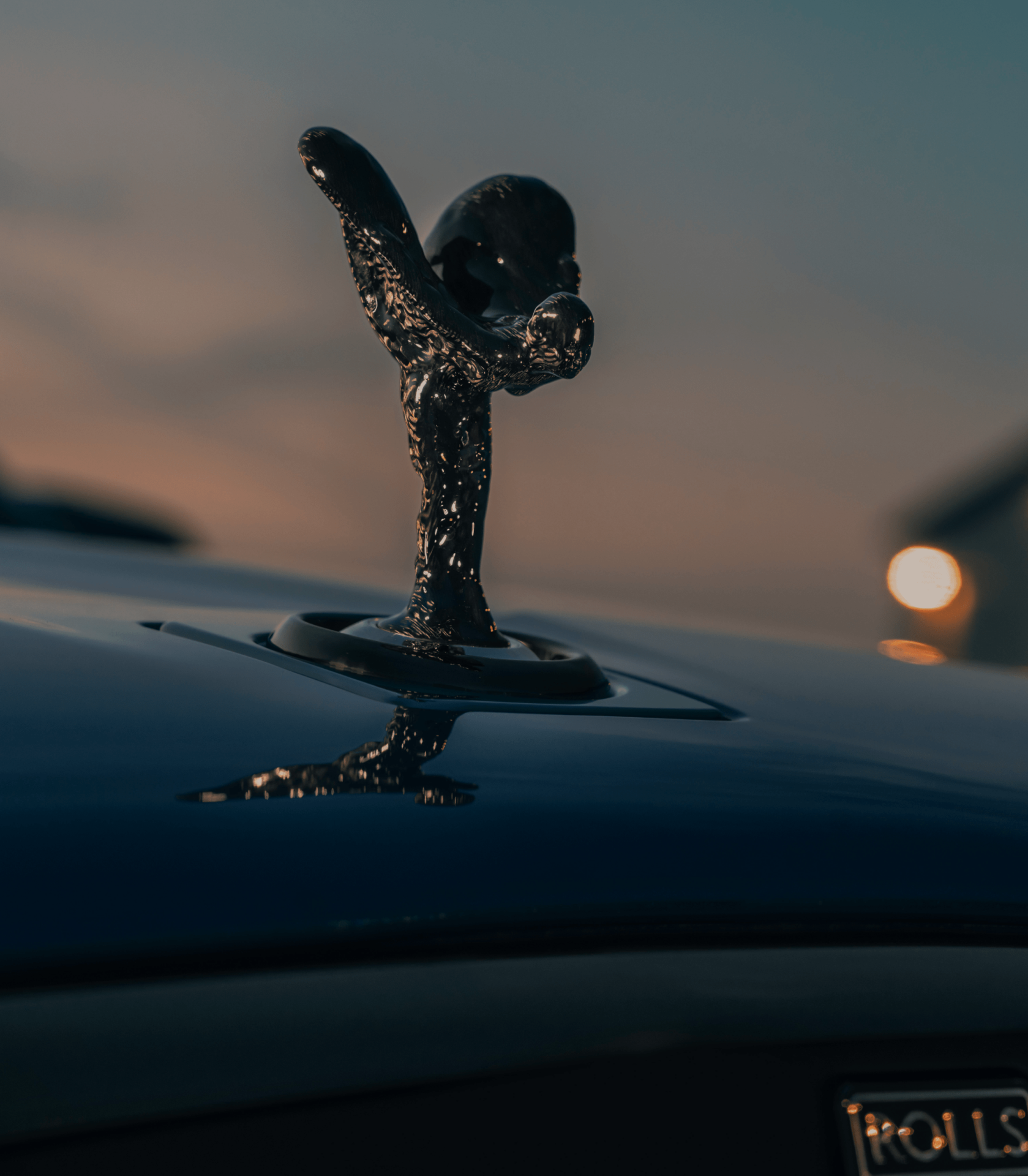 LOVINGLY RESTORED
Each Provenance motor car is a masterpiece, officially approved by the Rolls-Royce team and lovingly restored as close as it can be to the original specification. By upholding a discerning attitude, we ensure that legacies are preserved for generations to come.

BESPOKE FOR PROVENANCE
Tailor your Provenance motor car by selecting from a breadth of available Bespoke features. Glamorous embellishments, striking colour combinations, artisanal detailing – every Provenance motor car can be tailored to its new owner through truly expressive customisation. Bring original concepts to life through conversations with our Rolls-Royce Bespoke team.
An already ingrained courageous essence inspires more adventures yet to come.
JOIN THE WORLD'S MOST EXCLUSIVE CLUB
A Rolls-Royce motor car opens the door to a new way of living; one rooted in the extraordinary. The acquisition of each Provenance motor car grants owners access to Whispers — our private members club and digital extension of the marque, offering the world's most rarefied products, services and ideas.
Preservation is what defines legacy.
How is Provenance different from any other pre-owned Rolls-Royce?
Provenance is the certified pre-owned programme, run and operated by Rolls-Royce Motor Cars. It only includes Goodwood era motor cars — built after 2003 — which are carefully curated against suitability criteria including age, mileage and condition. Any motor car purchased with a Provenance label comes with the backing of the manufacturer, meaning you are in safe hands.
What does Provenance include?
·     A full 360 degree Provenance inspection conducted by master technicians.
·     The motor car will be restored to Provenance standards using genuine parts
·     Two years' warranty on parts and labour, including trim
·     Two years of servicing which include oil, filters and brake pads
·     Two years' roadside assistance for complete peace of mind
·     Exclusive access to Whispers, the Rolls-Royce private members club
How long is the warranty, servicing and Roadside Assistance cover?
Two years (outside North America). Please contact the dealer for more information.
How do I access Provenance's Roadside Assistance in an emergency?
If you need to contact us for Roadside Assistance, please do so on the numbers found here.
What additional servicing is included within the Provenance programme?
This includes any item requiring replacement within the condition-based servicing standards, including oil, brakes and filters. Tyres not included.
Will taking my Provenance car abroad void its warranty?
The warranty, servicing and roadside packages are region-based, so the answer will vary depending on where you take your motor car. We suggest checking directly with your dealer.
Do you offer financing solutions for certified pre-owned cars?
Rolls-Royce Motor Cars Financial Services is available in selected markets. Please check with your dealer for more information.